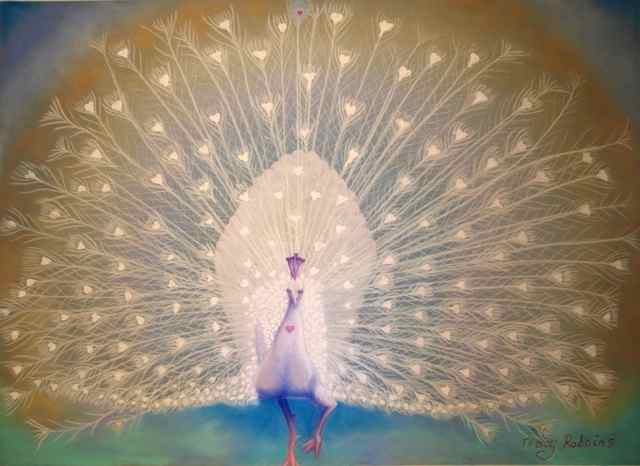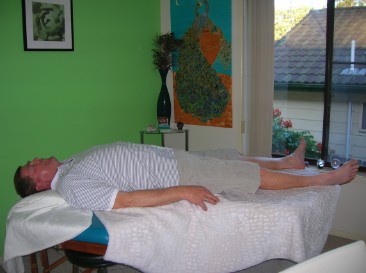 Above: Ed receiving a healing session.
Photo: Therapy table that holds crystals and paintings during healing sessions.
To find out more about healing sessions, visit my website: www.myluminessence.com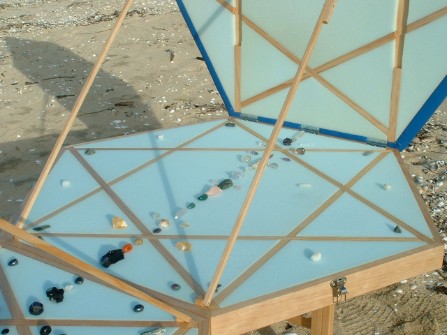 Welcome to Healing Vibration Art
by Tracy Robbins.
Tracy is an energetic healer who brings healing energies and evolutionary light codes and formulas into artwork. You can use these artworks to progress your spiritual development and evolution as well as for personal healing processes.
Each piece of art is part of a healing process that works for the individual who requested the work as well as for other people who come into contact with the painting.
Artworks also are designed to be used as sets for specific processes and many individual artworks are part of a set of paintings with a master artwork forming the completed process.
Vibrational Art
Vibrational Art is artwork that was created with a healing intention. It has undergone an energetic process that enables it to unlock healing around the intention it was imbued with. It works like a formula of healing that activates healing for your body and soul on multidimensional levels. This can have amazing results for the recipient or person having the image in their environment (prints, originals) or in their preferred method of receiving such as through drinking (mugs), food (fridge magnet) or wearing on their body (t-shirts and thongs).